HAULING A CONTINENTAL TRAIN near Lewes, Sussex. The photograph shows one of the former London, Brighton and South Coast Railway's expresses. The system became a part of the Southern Railway in 1922. The engine is of the 0-4-2 type, and was designed in 1882 by William Stroudley, Locomotive Superintendent of the London, Brighton and South Coast Railway.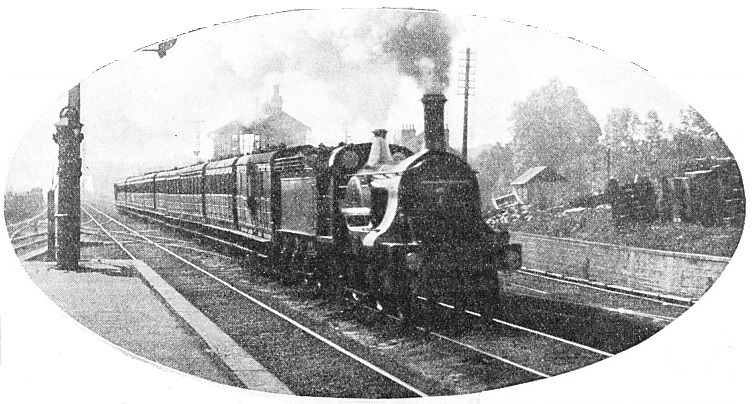 THE "FLYING SCOTSMAN" of bygone days is here seen passing New Barnet on the line of the former Great Northern Railway. The express is hauled by one of Patrick Stirling's famous "singles". These locomotives, with a single pair of 8 ft driving wheels, were among the fastest of their time. The first of this class were built in 1870 and the total weight of engine and tender amounted to 78 tons 10 cwt -an interesting comparison with the 155 tons of the great "Pacific" type locomotives which haul the "Flying Scotsman" to-day.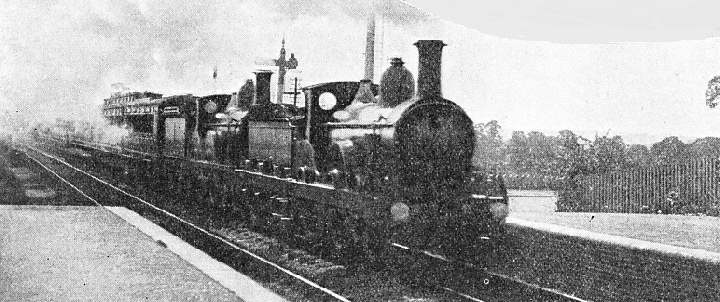 A DOUBLE-HEADED EXPRESS on the old Midland line in the early 'nineties. The 2-4-0 locomotives of the type shown were designed by the Midland Railway's locomotive superintendent, Matthew Kirtley. The coupled wheels were 6 ft 8½ in diameter, driven by a pair of cylinders 17 in diameter by 24 in stroke.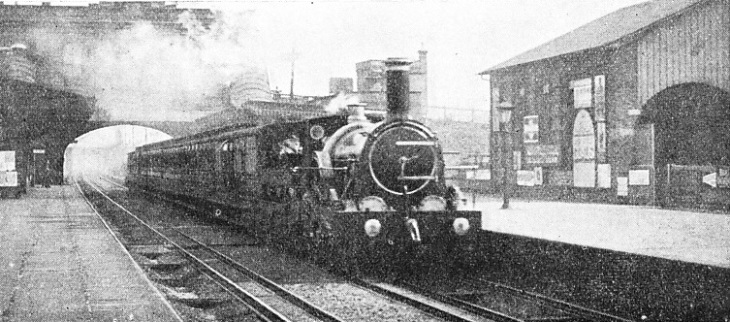 THE "FLYING DUTCHMAN", a famous Great Western train of broad-gauge days, hauled by an engine of the 4-2-2 type. This picture, taken at Ealing, shows an extra rail laid between each pair of broad-gauge tracks, ready for the GWR's conversion to the standard 4 ft 8½ in gauge, which took place in May, 1892.

IN 1886 the fastest booked train on the Great Northern was the one shown above. This picture was taken as the engine - one of the "singles" - was passing through New Barnet, hauling the Sheffield and Manchester special express which left King's Cross at 2 pm.







NEAR LEWES, SUSSEX. This photograph of a Continental express on the old London, Brighton and South Coast Railway is of special interest as illustrating the use made of tank engines for express trains working in later "Brighton Line" days.







































THE LAST TRAIN to cross the old bridge at Shoreham, Sussex. A London, Brighton and South Coast engine of the 0-4-2 type is shown heading some of the old-fashioned coaches that were the forerunners of the Southern Railway's luxurious rolling stock now in service.
You can read more on "A Famous Locomotive Type", "Some Famous Singles" and "Three Brighton Line Tank Engines" on this website.