A PRIZE was offered for the best decorated engine on an official excursion of the former London Brighton and South Coast Railway in 1898. The rival running sheds of Battersea and New Cross competed. In addition to decorations on the locomotives, the coal was whitewashed, as was always done for Royal trains.

"Allen Sarle" (above) represented Battersea. "Allen Sarle" was one of the well-known 0-4-2 express locomotives designed by W. Stroudley. Thirty-six of the type were built at Brighton between 1882 and 1891. The most famous was "Gladstone".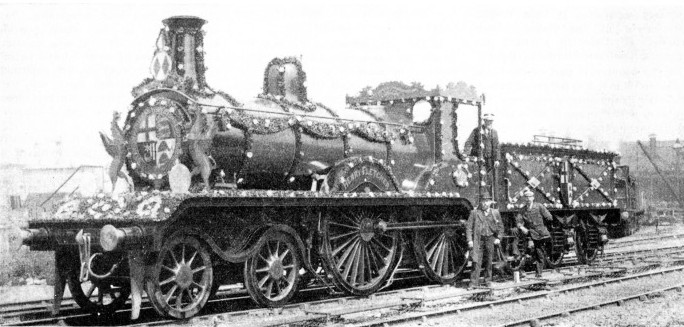 "Henry Fletcher" (above) was from New Cross. This locomotive had the more normal 4-4-0 wheel arrangement.





















This picture shows the two engines side by side.
You can read more on "A Famous Locomotive Type", "Special Trains" and "Three Brighton Line Tank Engines" on this website.