Photo Feature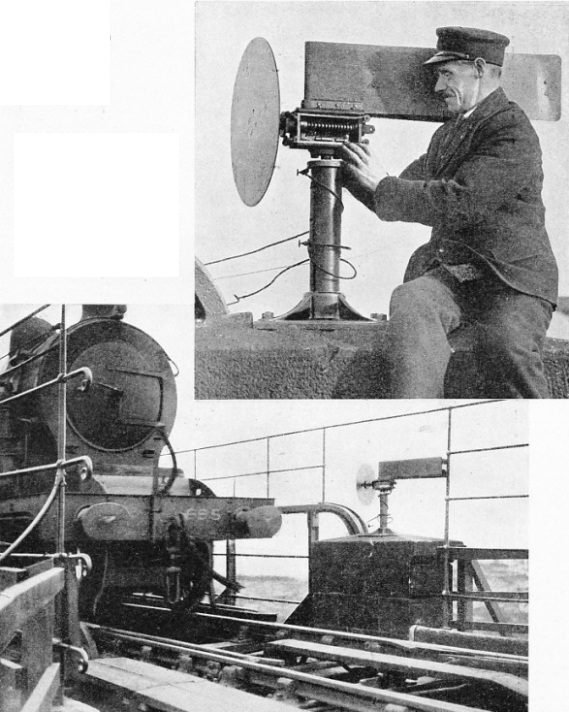 AN UNUSUAL PRECAUTION. Staithes Viaduct, in the North Riding of Yorkshire, carries the Loftus-Whitby branch of the LNER across the Staithes Beck on the Yorkshire coast, near Whitby. A wind-pressure gauge, or anemometer, has been fitted on the viaduct to warn the operator in Staithes signal cabin should the wind-pressure on the viaduct be too great to allow trains to cross over the structure in safety. This precaution is necessary as the viaduct is exposed to the full force of North Sea gales. The anemometer, first installed in 1884, consists of a circular shield and wind vanes; if the wind reaches a pressure of 28 lb per sq ft the instrument rings a bell in Staithes signal box, and the ringing continues until the pressure drops. The warning bell, however, has rarely been rung.
STAITHES VIADUCT is 770 ft in length and stands 152 ft above the bed of the beck. It is divided into seventeen spans, some of which are 60 ft and some 30 ft. As completed in 1875, each of the piers consisted of two tubular columns of plate iron filled with cement and braced together at intervals. In 1883 the piers were all connected by means of longitudinal bracing to increase the strength of the viaduct, Staithes Station is ten a a quarter miles north-west of Whitby (West Cliff). The branch line runs along the Yorkshire coast from Whitby via Staithes, Loftus, and Brotton to Middlesbrough, the total distance being thirty-six and a half miles. South of Whitby the line continues along the coast to Scarborough, twenty-one and a half miles from Whitby.
You can read more on "Famous Viaducts", "Floods, Fire and Earthquake" and
"Some Wonder Bridges" on this website.